Leading Manufacturer of Tracksuits
Get Custom Sports Uniforms With Your Team Logo, Player Name & Number.
HOME > SPORTS UNIFORMS > tracksuits
Custom Tracksuits Manufacturing Wholesale
Custom Cotton Tracksuits ( CSTS6 )
Sublimation Cut And Sew Team Tracksuit ( CSTS5 )
Custom Sublimation Team Tracksuits ( STS6 )
Custom Cotton Team Tracksuits ( STS6 )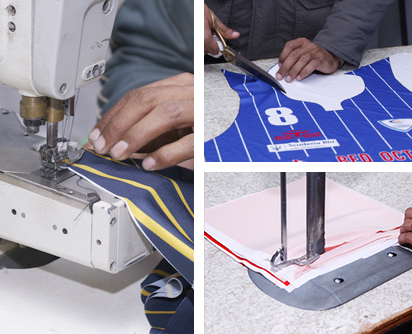 Custom Tracksuits Wholesale
Many athletes of any sport choose to wear
custom tracksuits
when they're not playing but still want to look like they belong to a team. Trademark Wear Off-Field Tracksuit can help you design a personalized tracksuit jacket and pants to help the squad seem cohesive throughout training and off the field.
Our sleek and contemporary tracksuits include a jacket and pants with a normal fit for maximum comfort. For increased convenience, the zippered jacket has two side pockets. Signaturewears provide customized tracksuits with removable hoods for individuals looking for a one-of-a-kind touch, ideal for personalization or brand promotion. Our custom tracksuits combine high-quality materials with low prices, guaranteeing you the most bang for your buck.
Our custom tracksuits designs are suitable for all teams. All you need to do is select your chosen design and color combination. This could be the same color scheme as the corresponding kit. After you have decided on the style and color scheme for your bespoke tracksuits, we will customize the jacket by adding the name of the team and the club's logo to give it a look exclusive to your organization.
Specifications:
100% Polyester Fabric

Unlimited color, the full Custom option

Long-lasting, with no color bleeding guaranteed.

Screen print graphics.

A more customized fit that provides more comfort across the torso and arms.

Machine wash and air dry.

Midweight performance fabric with excellent stretch and motion flexibility.
Quick Details:
Brand: Custom brand
Color: As Per Request
Sleeve Type: Full-Sleeves
Fabric: 100% Polyester
Available Sizes: As per request
Packaging Type: Box
Size: All Sizes
Gender: Girls, Boys, Women, Men
Design Your Jersey With Us!
S (Small)

M (Medium)

L (Large)

XL (Extra Large)

2XL (Double Extra Large)

3XL (Triple Extra Large)

4XL (Quadruple Extra Large)

5XL (Quintuple Extra Large)
Machine washing is the most effective method for cleaning
custom track suits
. Place the inside-out tracksuit in a cloth bag before washing for extra protection. Machine washes on a low setting in cold water. Cold water washing keeps the tracksuit from fading, shrinking, and damaging the lettering or numbers. Avoid using fabric softeners.
Shipping and Delivery:
Packing Specifications:

Cartons and Polybags

Delivery Information: Orders should be placed within a minimum of seven days before delivery, depending on how many products are ordered.
Also Check:
Have Queries? Ask Us Now!